The BDRA-sponsored Syrian family arrived on 15th December. Below is an account of the day written by BDRA Chair Janice Skafel.
It started out to be an early day for those who went to the airport to meet our new Syrian friends but we couldn't imagine how they felt after a 15 hour journey from Beirut via Cairo.  We knew they had landed, as the Immigration officer had been in touch by phone and also another passenger who had met them on the plane and who lives in Oakville, called him to tell us that he had met them on the flight and they were here!  We had time for a group picture (except for Emma who came after this) and then the three hour wait took place.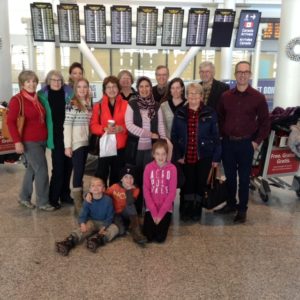 It gave us a chance to get to know our Interpreter for the arrival – Sahar.  A delightful and kind lady who was pleased to help us.  We were glad to have the Walker- Edwards kids there as this meant that the new children would see some their own age rather than all adults.
Gillian was ready with her beautifully made "Welcome to Canada" sign as only an artist can do.   There were other local people waiting for their refugee families on the same flight and when their families started arriving, we knew our family was shortly behind.  Actually, they came through the big doors to the reception area just after 11am, accompanied by the Immigration official.  They could see Gillian's sign as well as hear our cheering! Later they would see our tears of happiness and relief as it sunk in that they were finally here.  At first, they appeared a little anxious and concerned (or was it just straight fatigue?), but after some greetings and gifts of teddy bears, Canada flags and pins which Carrie and Louise brought, we saw the smiles.  Carrie and Louise had brought the bundles of boots, coats, hats and mitts that Sherry and Geraldine had put together, but they did have coats and hats already.
We took them down to the Airways Transit van that had been pre-arranged and was waiting. You could see that the cold startled them a bit as they stepped outside.
Stuart and Sahar accompanied the family in the van to their new home in Burlington.
Janet was waiting at the house with coffee and tea and special goodies like fruit and nuts and croissants.  The house was cozy and welcoming (thank goodness, the furnace was working OK) Janet had everything just perfect, down to the special napkins she chose that went with the carpet!  Within a short time, students from the Halton Waldorf School down the street arrived to sing a few songs to welcome the family.  We had them all inside as the weather was truly bitterly cold outside with the wind.
We could see the enjoyment on the family's faces who knew that this special welcome was for them.  
It is Rayan who is not afraid to use her English and was able to understand and translate most things.  Meanwhile Ahmad (age 17) (pronounced Aukmed) is upstairs somewhere on a bed fast asleep.  The day has been very long for him.  We were able to converse with him as he had an Arabic-English translator on his phone.
A little while later, Pam arrived with Mohammed and the cooked meal that Sohaila, joining us later, had prepared for them.  It was now Wisal's kitchen and she set the table and got out the food. Stuart and I joined them for this meal before we left – with our telephone numbers available should they have questions.  Stuart had also made up a photo directory of our committee for them.
They had been given a tour of the house so they knew how to adjust the thermostat and work the shower, the stove and the microwave.  It is hard to describe the absolute delight in the girl's eyes when I took them upstairs to their beautiful new bedrooms.  I didn't have to say a word and they knew that it was for them!  The kitchen is well stocked with food for the family.  Pam and Roland have taken several shopping trips to get what is needed under Sohaila's direction.  There are a number of stores fairly convenient to them, including Metro and the special Halal meat shop not too far away.
Yes, it has been quite a day. We do not yet know all of their previous history and their life before Canada, but we know they are going to be our new friends with hope for their future in this new life.