St. Luke's and the Burlington Downtown Refugee Alliance (BDRA.ca) have done a great job of outfitting the house for the refugee family that we are sponsoring.
However, Janice Skafel (chair of the BDRA) and Rev. Stuart Pike became aware of a new and urgent issue on Friday. What we didn't know is that there have been several Government Assisted Refugees (GARs) who have arrived in Burlington and several more on the way.
Many of them have arrived with very little, and with no sponsoring group to give them a welcome, or see that their initial needs are met.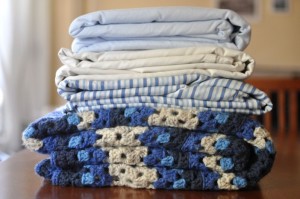 So, Janice and Stuart went to two meetings on Saturday: one to meet Imam Abdulla and another member of the Halton Islamic Association to speak about the crisis. The other meeting was a larger meeting in Oakville with a number of different groups represented.
In order to meet the needs of these newcomers, different community groups have agreed to go hunting for different items. Stuart and Janice agreed that they would collect bedding on behalf of BDRA.
We need blankets, sheets and comforters, the newer the better. And we need about 4 single sets for every double set. And we need pillows. We may need as many as 60 of each of these going forward.
However, we know of one family who will be arriving on this Wednesday 17th February. So … by this Tuesday (Feb 16) I need 1 set of double bedding and 5 sets of single. And 7 pillows, of course. Keep in mind that more than one blanket per bed might be needed depending on how warm their home will be.
Can you help us?
Donations can be brought to St Luke's Church offices at 1382 Ontario St. The office is closed on Monday 15th for Family Day, but please bring what you can on Tuesday – office hours are from 9 a.m. to 3:30 p.m. We'll put them up in the board room and will get them out to the Mosque either at the end of the day or early Wednesday morning.
You can also contact the BDRA here.
We'll continue to collect in the days ahead for the further families coming to Burlington.