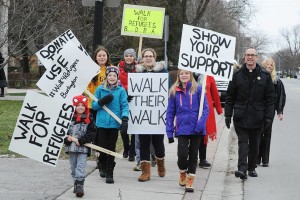 On January 17th hundreds of Burlington citizens were joined by Karina Gould, MP, Eleanor McMahon, MPP, Mayor Rick Goldring, councillor John Taylor and school board trustee Leah Reynolds on a 5km walk to raise funds and awareness of the campaign to bring Syrian refugees to Burlington. The walk was initiated and organised by high school student Oliver Walker-Edwards.
Burlington Downtown Refugee Alliance was formed by a coalition of churches, community groups, city staff, businesses and individuals with the objective of settling one or more refugee families in Burlington.
The cost to take part in the walk was just $5, but the funds raised from the walk are currently over $5000 – and funds are still being received. These funds will play a major role in ensuring a successful settlement for a refugee family.
The cold January day did not discourage a large turn out at the starting point at St Luke's Church in downtown Burlington. From there the walkers travelled along Brant, Fairview and Maple, receiving supportive blasts on car horns from passing traffic,   before returning to St Luke's church hall.  At the completing of the walk the Mayor and other dignitaries expressed their thanks to Olivia for organising such a successful event, and underlined the importance of the refugee resettlement efforts.
The BDRA would like to express its thanks to Olivia and all the volunteers who worked hard to make this event possible.